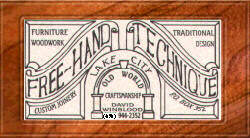 Free-Hand Technique


DAVID is a fine wood craftsman. He manufactures custom hand made furniture. Some of his designs may be available here on this web page through the cooperative. He is willing to discuss custom wood work designs but, will take whatever time is needed to produce the finest quality work. His work is not assembly line work. It is specialty wood working. If you have some furniture or wood working piece you would like designed feel free to email the cooperative and we will pass the information along to him.
Lake City Mountain Crafts CO-OP
lakecitycrafters@yahoo.com
N. Hwy. 149
P.O. BOX 82
Lake City, CO 81235
United States
PHONE: (970)944-2256

 This Lake City, Colorado Web Ring site is owned by: 
    The Lake City Crafters
[Join | List | Visit a random site ]
[ Visit next site | Visit previous site ]
This page is designed by
Future Wave Computer Solutions.